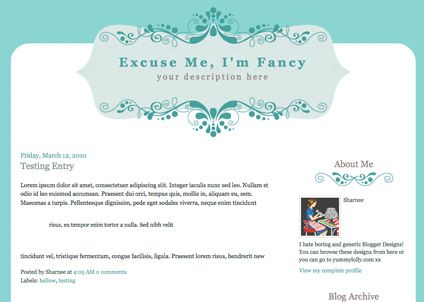 (click image above for a live preview)
Why not edit the header image and get something a bit spiffier?
I have included the blank .jpg image in the zipped folder so you can add your own title/description in whatever font you like.
This is, in a nutshell, what you have to do:
Open the header image in your graphics program*. Add your own header title text/description. Save this image.

I came up with this:





Go to

LAYOUT

>

PAGE ELEMENTS

and click "Edit" in the header area. You are basically going to tell the blog to show this new image in stead of your boring old plain text header! Click image below for a grab on what to click:






Done!

* You don't need Photoshop (or such) any more because there's something called
Pixel Editor
which I seem to have within my Firefox Browser. I have no idea if this is now included in Firefox or if I installed the plugin. When I right click on an image, one of the choices is "Edit Image" and when I click that, it brings up a very 'Adobe' inspired editing window: