I don't know if you have noticed but Blogger has introduced functionality to allow you to keep your widgets when you change your template!
WOW!
That was the biggest complaint that I heard from people who wanted to use my templates!
"
Oh, I like the template but I don't want to lose my widgets / links etc
".

SO WHAT'S THE DEAL?
When you upload a template to your blog now, it comes up with a prompt as below: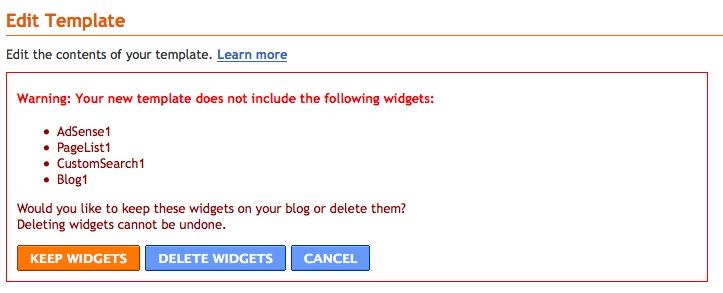 If you click on 'Delete Widgets' then all your widgets (links, search bar etc) will be gone and you will have a fresh new blog with no dramas and a shiny new template. Except your widgets have gone.
If you click on '
Keep Widgets
' then this is great because your current widgets will stay and the template will change! Just what everyone always wanted!
BUT....
(c'mon, you knew there had to be a but)
... sometimes, due to how things may be labelled in the code of the blog, you may get some hiccups occurring. I don't expect this to make perfect sense to you (and that's fine) but if you often change your template then remember this post and come back and visit it again if you have troubles.
You
may
find something odd happens to your blog if you click on "Keep Widgets" like I did:
Yeah, a double up of posts!
How annoying!
This is how it looks in the Page Layout area: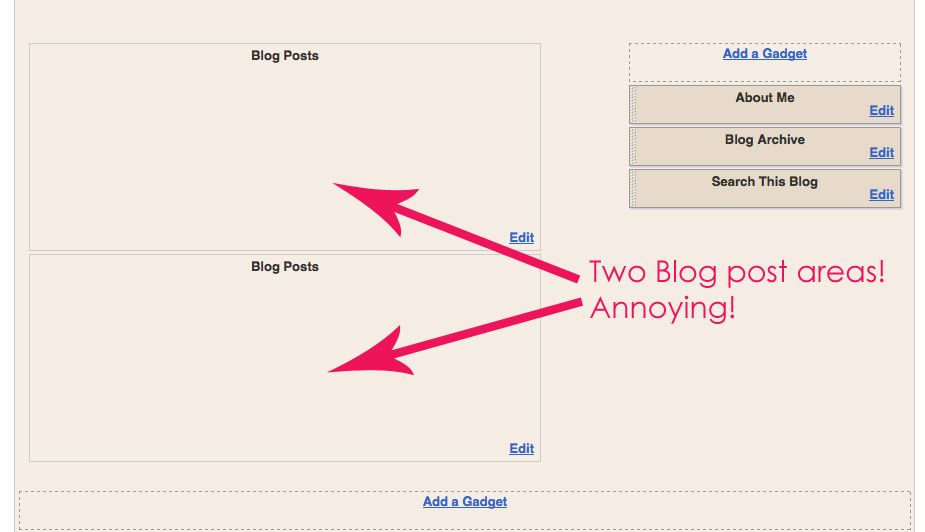 For some reason, the new template had a "Blog Posts" area, and you also kept the "Blog Posts" area from your old blog (each labelled with a different name).... so now you have two! Exactly the same! Arrr!
If you experience a problem like this, here is what to do:
1)
Go to the Layout Edit HTML tab within Blogger
2)
Make sure the "Expand Widget Template" button is NOT ticked (it will be easier on your eyes this way):

3)
Scroll down through the code until you find the following (hint: it will be towards the bottom of the code):
</b:widget id='Blog2' locked='true' title='Blog Posts' type='Blog' />
(highlighted below)
THE IMPORTANT THING TO REMEMBER IS:
that there are
TWO
'Blog Posts' areas (see how one is labelled 'Blog1' and one is labelled 'Blog2' above?
I can identify which one I want to
remove
because of the first warning that came up when I changed my template (see below).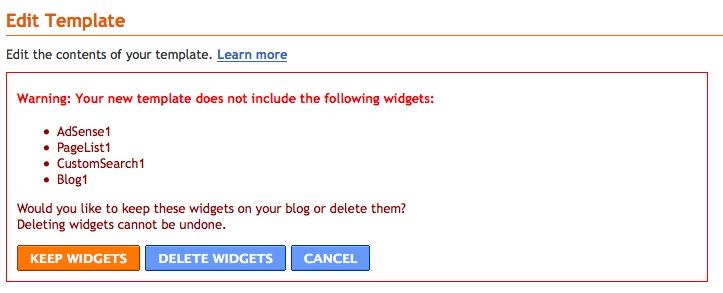 I can see that Blog1 was part of my blog before I changed the template (as indicated above) so therefore I need to erase 'Blog2' within the code.

This may be reverse for you, so please keep this in mind.
(In reality it may not matter which one you remove, I'm not sure at this time. But that's how you tell which one was part of your blog originally)
4)
Go ahead and delete that line of code (in my case it was the pink highlighted line above)
5) Save.
6) On the next screen it will say something like this:

Click "
Delete Widgets
" because, no, we don't want our blog posts doubled up!
DONE!
I know this is going to be kind of confusing unless you actually have this problem, so please don't think too hard about it at this time. The information is just here in case you need it!
I am honestly not sure if any other things can be doubled up on like this can, but leave me a comment if you notice and I shall investigate.
I hope this makes some sense!